The 3D co-op platformer games have carved out a unique niche in the gaming world, combining the joy of shared experiences with the challenge of three-dimensional gameplay. These games are designed around the concept of players working together, typically in a detailed 3D environment, to overcome obstacles, solve puzzles and complete levels. These games represent a continually evolving genre, offering challenges and experiences that stand out in the world of gaming. Their emphasis on cooperation, combined with the immersive nature of 3D environments, makes them a beloved choice for gamers seeking a collaborative and engaging experience.
'Chained Together', the latest offering from Anegar Games is an upcoming 3D platformer game set to release in 2024. It is an interesting take on 3D platformers that tethers players with one another and tasks them to escape hell by climbing as high as possible. Powered by Unreal Engine, the game features unusual traversal mechanics, visually stunning worlds, and a multitude of challenges that would require perfect coordination between players to complete. Ahead of its release, 'Chained Together' has received positive attention from critics for its innovative approach to cooperative gameplay. The game is already creating a buzz in the gaming community for its unique concept and engaging gameplay!
Find out more about 'Chained Together' and it's Developer 'Anegar Games" 
In this game, a maximum of 4 players are literally chained together in a mystical realm filled with challenges and puzzles. The game features a series of levels, each presenting unique environments, puzzles, and obstacles. Players must swing across gaps, climb obstacles, and solve complex puzzles, all while maintaining coordination with their partner. The physics of the chain adds an extra layer of complexity and realism to the gameplay, requiring players to think strategically about every move. Each jump requires perfect coordination to scale the platforms and escape the scorching heat. Traverse a multitude of worlds, each offering unique challenges.
'Chained Together' boasts stunning graphics and a captivating soundtrack. The game's world is beautifully rendered, with each level featuring its own distinct aesthetic and atmosphere. The sound design is equally impressive, with a dynamic score that adapts to the gameplay, heightening the sense of immersion and adventure.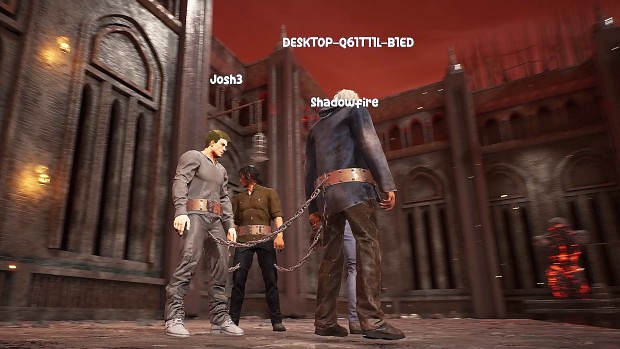 With its unique concept, engaging gameplay, and stunning visuals, 'Chained Together' is set to be a standout title in the cooperative gaming genre. It promises to deliver not just a game, but an experience that players will remember and talk about long after they've unchained themselves from their partners. As the release date approaches, the anticipation continues to build, marking 'Chained Together' as a game to watch out for in 2024.
Unreal Engine: Powering the Innovation Behind 'Chained Together'
Unreal Engine, known for its cutting-edge technology and flexibility, has once again demonstrated its prowess in game development with the creation of 'Chained Together'. This game, a testament to the engine's capabilities, showcases how Unreal Engine continues to be at the forefront of bringing imaginative concepts to life. The engine's toolkit has enabled developers to craft a visually stunning world, complete with intricate details and immersive environments. The realistic physics of the chain mechanics in 'Chained Together' are a direct result of Unreal Engine's sophisticated simulation capabilities, offering a gameplay experience that feels as real as it is engaging.